PRODUCTS
Product group adopted for cutting-edge industrial products
Kikuchi's originality and technology bear fruit
We supply gears to a wide range of fields from the aircraft industry to the automobile, construction machinery, and printing industries. Not only general-purpose gears but also micron units according to customer needs To ensure a stable supply of a wide variety of products, including special gears that require precision Flexible production equipment and technical staff who have accumulated many years of experience and technology will manufacture with a perfect system. We will provide high-durability, high-quality products in which each gear demonstrates 100% of the functions of our customers' products.
FACTORY
It is possible to respond to various production plans
with 6 base factories and advanced production cooperation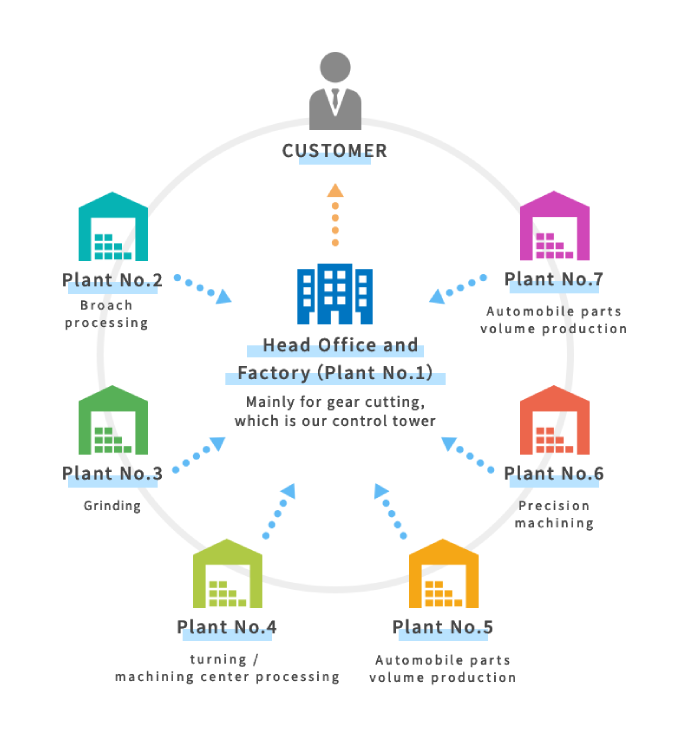 We realize global quality and world-class gears with a strong network of production bases.
COMPANY
Creative Integration between Progress and Harmony
"Kikuchi Gear Co., Ltd." has been extensively providing gears to various fields ranging from the aviation industry, automobile, construction machinery and printing industry. To meet the needs of our customers, we will strive to ensure stable supply of various products ranging from general purpose gears to special gears requiring precision in microns by preparing thoroughly with the flexibly operating production facility and our engineering staff with many years of experience and skills.
RECRUIT
We are looking for person who is information conscious and enjoys challenges.
Most of our gears will be the products that are developed and manufactured by carefully going through customer's drawings and arranging details. We are, therefore, looking for someone who is enthusiastic, not satisfied with the current state of affairs, and wants to take on new challenges! and someone who is constantly on the lookout for the latest information, hoping to make use of it for planning and development.